Welcome to

reflexions studio
NOVEMBER OFFERINGS:
With the change of seasons, we have introduced some additions and changes to our schedule! Starting Tuesday, November 15th we have added a 9am Beginner Mat Pilates class and Wednesday, November 16th a 9am Hot Core Flow class! You can find these classes on our schedule now to start booking your spots!
We have also changed our format for Sunday 10:30am class to a Warm Mellow Flow so you can find a little slower pace on your Sunday or use it to relax down after the 9am Strength + Flow class.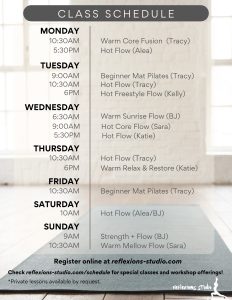 We do ask that you sign up online for classes whenever possible as it streamlines our administration process!  
DECEMBER OFFERING:
We are excited to have another Yin & Sound Mini Retreat on the schedule for Sunday, December 11th at 3:30-5pm. This 90 minute class will offer an amazing deep Yin practice and a beautiful sound bath with meditation. You don't want to miss this opportunity.
____________________________________________________________________________
Welcome to Reflexions Studio and our website!
You  can also find us on FACEBOOK and INSTAGRAM to stay tuned on the latest news!
Are you looking to try yoga for the first time? Rediscovering yoga after a break? Or simply wanting to try a new studio? 
Reflexions has a variety of yoga classes in either a hot or a warm room to relax and re-energize your body. Our staff is welcoming and strives to create an inclusive atmosphere where everyone at is welcome.
We are proud to offer Pilates here at the Reflexions studio now! You can find a Classical Mat Pilates class on our schedule twice a week or if you prefer to dive a little deeper into your body you can have a private session in one of our treatment rooms with Classical Pilates equipment. Pilates is offered by Tracy Brightman through www.brightmanpilates.com.
We are also excited to be offering Mini Retreats once a month on Sunday afternoons to reset and refresh. Whether it is a Restorative Aerial Yoga retreat, a Yin and Sound retreat or maybe something new…always worth trying!
A few quick pointers about our website…
You can find pricing by clicking on the "classes" tab and using the drop down menu.  You can purchase drop-in, passes and gift cards there.  We have an online schedule that is up to the minute accurate (click the SCHEDULE tab)… you can reserve your space in classes ahead of time by using the "sign up now" button although online sign up is not required.   We also have a Facebook and Instagram pages that we use to post specials and studio news.  
Phew – that's it in a nutshell!  If we have missed something or if you have ANY questions, please let us know by calling or sending us an email:
info@reflexions-studio.com